Runaway Grass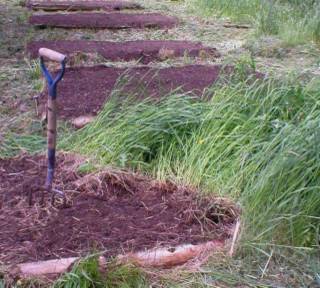 I've been gardening with a vengence since coming home. The grass is taking over the place! It was already knee high in places when we arrived. Some of it is already belly button height.
I bought a weedwacker in order to find the garden. Four hours later, I uncovered about 1/4 of it. I was even out there past 9 pm, weed wacking with my headlamp on.
I've cleaned out 13 beds and a couple of tires so far. Some of the beds are pretty weed intensive...I spent more than an hour and a half on one of them. Gotta love witchgrass :-)Tomorrow is more of the same. I'm trying to get as much as possible prepped so mom can go out there and plant while I'm at work.